Sonos facts you may not have known
BY RENATO KUNZ, HEAD OF CATEGORY MANAGEMENT
Dear music enthusiasts, radio listeners, music streamers, and film and series fans. Some of you may already be proud owners and daily users of a Sonos sound system. Others may have heard about it or even tried it out. But what exactly is Sonos and what can you do with it? Find out. To do this, I'd like to share 10 great Sonos facts that you may not know about yet.
Reading time: 5 min. | Author: Renato Kunz, Head of Category Management
1.

MULTIROOM CAPABLE SOUND SYSTEM 
Sonos is a multi-room capable sound system that delivers great sound no matter where you are. You can listen to the same song in all of the rooms where you have a Sonos speaker, or you can listen to a different song in each room. It's entirely up to you.
2.

CLEAR SPEECH OUTPUT
Sonos soundbars give you clear, intelligible dialogue and speech even at low volumes .... easily done by activating Speech Enhancement Mode in the Sonos app. That way, you don't have to keep turning the volume up and down between dialogue and action scenes in a film.
3. Bluetooth
The mobile Sonos speakers (Move, Roam, Roam SL) are not only multi-room capable Sonos speakers connected via Wi-Fi, but they also have Bluetooth if you need to take the speaker with you outside Wi-Fi range. So, these speakers give you a 2-in-1 solution that accompanies you wherever you want to listen to music.
4. EASY TO SET UP VIA YOUR WIFI      
Plug in the speaker, download the app, connect it to your Wi-Fi, a quick setup and you're ready for great sound.
5. EXPAND AS MUCH AS YOU WANT 
Start with 1 or 2 speakers and expand your system at a later date at your convenience meaning you don't have to worry about how many speakers you want to install where and how when you initially buy the system.
6. LISTEN TO EVERY SONG IN THE WORLD ON SONOS. WITHOUT LIMIT
Listen to the radio via Sonos Radio, TuneIn, etc. Stream music from your streaming service. Connect your record player to your Sonos speaker and play the song from the record in the other rooms if you like. Stream any content directly to your Sonos speakers via Airplay 2.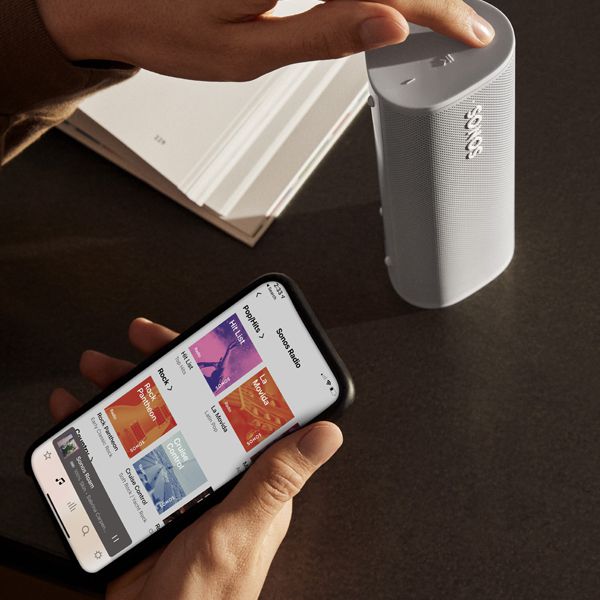 7. VOICE CONTROL OR APP
Easily control your music and rooms via the Sonos app or voice control.
8. UPDATES FOR NEW FEATURES
Benefit from free updates over the years that keep adding new features to your Sonos system. Your speakers will continue to improve and deliver more and more features.
9. WAKE-UP FEATURE  
Wake up to Sonos and your music. Use the super flexible wake-up feature in the Sonos app to wake up to a great sound in the morning.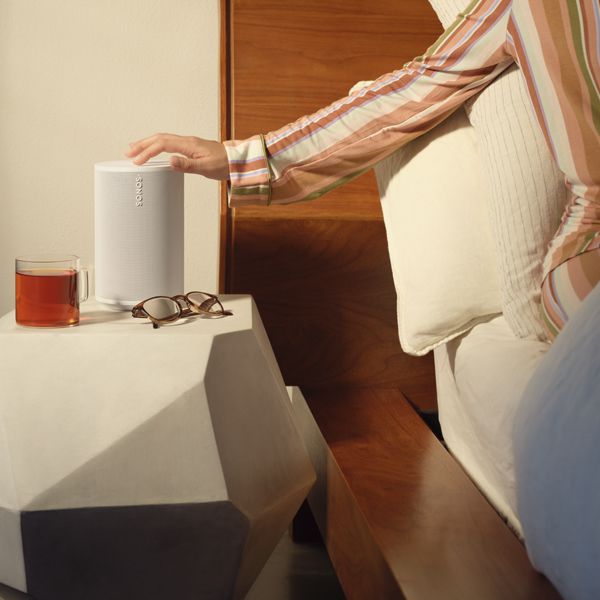 10. SONOS AND YOUR EXISTING HI-FI EQUIPMENT
Still have a hi-fi system or nice floor-standing speakers you'd like to keep, but want to listen to internet radio and streaming services on them? No problem. Sonos offers you the solution to this with the Port and the Amp.
Renato's favourite product
Discover the smart speakers from Sonos